Healthcare EDI solutions are automated systems that facilitate the electronic exchange of specific patient information between healthcare providers and payers. Navigating through healthcare EDI is often challenging, however with the right services and integrations, managing EDI transactions would be trouble-free. Gear up your EDI with Nalashaa and experience seamless and secure data exchange.
Worried About Your Healthcare EDI?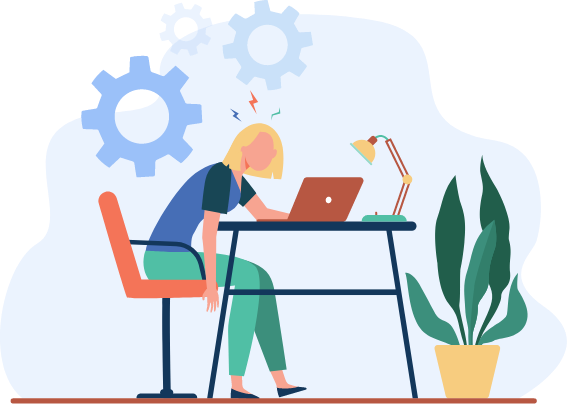 Updating and aligning systems with ever-evolving standards and compliance is complex and costly
Managing test data with scenarios, structural and/or syntactic validations is challenging and expensive
QA automation to manage updates, regression and the repercussions of transaction failure is laborious
Ensuring flexibility is tedious as business rules often change across insurers, geographies, and settings
Lack of resources and knowledge to execute improvements to the existing EDI systems
Increasing cost of managing EDI setup in trying to generate error-free transactions
Explore our range of Healthcare EDI Solutions
1
System Automation
Healthcare organizations in the USA can improve their operations and profitability by streamlining the health claims process through Electronic Data Interchange (EDI). EDI software modernization is crucial for complying with the HIPAA regulations and ANSI standards. It can significantly enhance the speed and efficiency of claims resolution. With our custom-made healthcare EDI solutions, organizations can reconcile data transactions and monitor real-time transaction status while ensuring HIPAA compliance.
2
Integration
We are a well-known healthcare EDI company in the USA, offering EDI/X12 transaction implementation across payers, providers, and clearinghouses. Our solutions utilize mapping and API methods to integrate clinical data to EDI standards, and successfully implement various transactions such as 834, 837, 820, 835, 27x, and 274. Our EDI specialists can help reconcile multiple sources of healthcare data with CMS, Medicare, state exchanges, and providers.
3
Test Automation
We offer custom-made healthcare EDI solutions that analyze EDI system development records, conduct file comparisons, and automatically test EDI files for errors using heuristic parsing algorithms. These next-gen healthcare EDI solutions come with advanced tools and metrics that allow stakeholders to track project statuses and expedite test automation. Our solutions have resulted in positive ROI gain across the USA.
4
Reporting
We provide top-notch EDI healthcare solutions that offer inbound analytics and reporting modules with real-time monitoring and reporting dashboards for compliance auditing. Customized dashboards allow easy access to EDI data and tracking of EDI activities. We make sure that the analytics are presented through easy-to-understand EDI reporting formats to help clients access and analyze their EDI data and performance.
5
Interactive Dashboards
We offer electronic data interchange solutions that provide real-time healthcare data visibility for enhanced decision-making, reduced call volume, and improved operational workflow. This feature offers flexible and advanced dashboard templates to track 837 files, claims, and line items, as well as review work in progress claims, daily rejections, examiner productivity views, and denial reasons.
6
Compliance Validation
Healthcare organizations in the US have to follow the HIPAA and HL78 while transferring or receiving X12 EDI files. Our EDI solutions are capable of checking mandatory items, regulatory compliance, data type of EDI, and correct length of EDI. These help organizations to quickly recover from the error and save valuable time in checking.
Benefits of our Healthcare EDI solutions
Improved Operational Speeds
Let's address the elephant in the room. The healthcare of the United States with all its compliances and regulations is complex. We can help accelerate different workflows enabling seamless data transfer between providers and payers.
Data Security 
PHI is very valuable information. Loss or misuse of PHI can lead to serious legal consequences like fines and imprisonment. Our EDI solutions are developed to ensure secure information exchange between stakeholders.
Lowered Cost of Care 
EDI solutions help in doing away with physical documentation. Handling of physical documents has many steps like storing, transporting, filing and retrieving. Our solutions help you avoid the need for physical documentation which ultimately leads to reduced operating overhead and lower cost of care.
Why Choose Us?
Our efficient healthcare IT experts have enabled over a billion successful EDI transactions. Apart from that, we promise
Business assessment to align solutions with your business goals
Healthcare compliance experts with in-depth industry knowledge
Attention to detail with cost-efficient Quality Control
End-to-end implementation with zero hand-holding
Single-stop shop for a variety of Healthcare IT services
Simplify your EDI management
Simplify your
EDI management
Learn about ways to
build, modernize and automate your EDI infrastructure

with a complementary assessment.
Worth Exploring
A glimpse of our industry expertise
Frequently asked questions
1. What does healthcare EDI stand for?
EDI stands for Electronic Data Interchange (EDI) is the computer-to-computer exchange of business documents, such as purchase orders and invoices, in a standardized format.
2. How can EDI in healthcare benefit my business?
Both "payer" and "payor" are used in the healthcare industry to refer to entities that pay for EDI can benefit your business by reducing errors, improving speed and accuracy, and increasing efficiency.
3. How can I integrate EDI into my existing systems and workflows?
EDI can be integrated into your existing systems and workflows through a variety of methods, such as using EDI software or working with a third-party EDI provider. You may choose a method that will depend on your specific business needs and technical capabilities.
4. What are the most common EDI document types, and how do they work?
The most common EDI document types include Purchase Order (850), Invoice (810), Advance Shipping Notice (856), and Payment Advice (820). Each document type has a specific format and set of data elements that are used to exchange information between trading partners.
5. what is edi in medical billing?
EDI stands for Electronic Data Interchange, which is the process of electronically transmitting healthcare data between healthcare providers, payers, and other entities involved in medical billing. In medical billing, EDI is used to exchange information such as claims, payments, and eligibility verification, in a secure and efficient manner, reducing errors and improving the speed of processing.
6. What security measures are in place to protect my data when using EDI?
EDI uses various security measures to protect your data, including encryption, authentication, and authorization. EDI providers typically have robust security protocols in place to ensure the confidentiality, integrity, and availability of your data. It's important to work with a reputable provider and follow the best practices for EDI security to minimize the risk of data breaches.