In the US healthcare ecosystem, EHR software development involves creating and maintaining electronic health record systems to digitize patient medical records, improve healthcare quality, and streamline clinical workflows. For more than a decade, Nalashaa has been providing custom EHR and EMR software within standard timelines and of above-par quality.
Challenges in Off-the-shelf
EHR and EMR systems
The same shoe size doesn't fit everyone. Similarly, each healthcare organization has unique workflows, documentation requirements, and patient populations which cannot be incorporated in off-the-shelf solutions. Custom solutions can fix this.
Off-the-shelf EHR and EMR systems are typically loaded with a vast number of features and functionalities. However, not all healthcare organizations need or use all these features thus the need for custom solutions.
Off-the-shelf EHR and EMR systems can be costly, especially for small to mid-sized healthcare organizations. The initial costs, ongoing maintenance, etc. can all add up, making the system too costly for organizations
Different data security protocols
Every healthcare organization has different data security protocols based on its size, location, and needs. Off-the-shelf EHR systems may not be able to meet the unique security requirements of every organization.
Custom EHR and EMR Software to
Counter these Challenges
EHR Software
Paper-based medical records are rapidly getting replaced by electronic health records (EHR). We create unique EHR systems to help with the digitalization of the most crucial health information. Our custom EHR solutions have been created to fit your specific needs. Nothing more, nothing less. You receive and pay for only the features you want along with room for future additions.
EMR Software
Our Custom EMR software is designed specifically for healthcare organization or practice. It can be tailored to the organization's unique needs and workflows, scaled as the organization grows, and seamlessly integrated with other systems. It can match the security measures and protocols of your organization based on your specific needs.
Are you looking for a centralized PHI repository?
Types of our EHR Software Development Services
EHR market
entry consulting
Help in designing additional features on your EHR product.
We take great care in understanding our client's requirements and healthcare workflows.
Planning a high level EHR architecture and providing required technology stack.
UI/UX design and development based on user understanding.
End-to-End EHR
Software Development
Selecting the type of EHR (Cloud-based, Physician-hosted systems).
Developing software architecture.
UX/UI designing.
Development of MVP, testing with clients and quality assurance.
Support with all the relevant certifications.
Support for
EHR Systems
Assistance with EHR technicians after deployment.
Testing for security and compliance.
Maintenance and troubleshooting.
EHR/EMR software evolution.
Discovery
Understanding the EHR/EMR requirements.
Laying out the tech stack.
Quantifying existing data.
Development
Mapping out the projects and estimations.
Creating the custom EHR/EMR solution.
Integrating with hospital or third-party applications as per requirement.
All-round quality assurance.
Implementation
Integrating the EHR/EMR software with the hospital ecosystem.
Data migration to new system.
Performing security checks.
Features of our custom EHR
and EMR solutions
Core features
Cloud multi-tenant or on-premise EHR
Designed for doctor's and nurse's convenience
Features for both multi-facility clinics and specialty clinics
Compliance features with end-to-end data encryption
Multi device (desktop, mobile, tablet) compatibility
Analytics features
Workflow analytics (eg., staff scheduling, claims management, appointment management, etc.)
Patient PHI (lab tests, vitals, medical imaging) analytics
Predictive analysis for disease prevention and PHM
Financial analytics to preform fraud detection and risk management
Accessibility features
Image and writing recognition
Prescription assistance and eRx
Intelligent voice assistance
Support with clinical decision and treatment planning
Voice-to-Text
Want to modernize your EHR to meet future expectations?
Compliances and Certifications






Benefits from our EHR and EMR Solutions
Increased Efficiency
With our software, you can expect to reduce paperwork, improve accuracy, and save time on routine tasks, such as patient check-ins, appointment scheduling, and medical record management.
Enhanced Data Security
Our EHR and EMR software development solutions are designed with advanced security features to protect sensitive PHI. Our software adheres to industry standards and regulations, such as HIPAA, to ensure that your patients' data is kept safe and secure.
Increased Revenue
We can help you increase revenue by improving your medical practice's efficiency and accuracy. Our solutions will reduce your billing errors, and optimize your revenue cycle management.
Integration with Other Systems
Our EHR and EMR solutions can integrate with other systems, such as billing software, electronic prescribing, and lab systems. We can work with you to integrate our software with the systems you currently use, ensuring a seamless transition of data.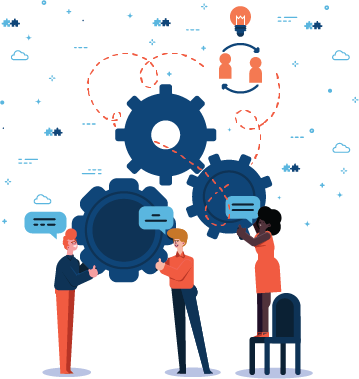 Essential EHR and EMR integration solutions that we also provide
Along with building solutions from level zero, we also perform EHR and EMR integrations with internal and other third-party applications in your hospital. Our expertise in developing various kinds of healthcare software has made us one of the most trusted solution partners.
Here are some examples of EHR and EMR integration that we commonly work on.
Financial management systems
Pharmacy management software
Patient wearables
Patient engagement tools
Laboratory management systems
Still unsure? Connect with us, we will find a solution
We have learnt the art of delivering quality with convenience. Let's do the same for you.
Frequently Asked Questions
What is an EHR developer?
An EHR developer is a software development organization that designs, develops and upgrades electronic health record systems. They are responsible for developing, testing, and maintaining software that allows healthcare providers to enter and access patient information electronically while adhering to strict regulatory standards and guidelines such as HIPAA. EHR developers work closely with healthcare providers to understand their needs, designing user-friendly interfaces and integrating with other healthcare technologies such as electronic prescribing and laboratory information systems.
What are the largest EHR companies?
The largest EHR companies in the US healthcare ecosystem are as follows:
EPIC
Cerner
NextGen
eClinicalWorks
Allscripts EHR
CureMD
How many EHR vendors are there in US?
There are approximately 500 EHR vendors currently working in the US healthcare ecosystem.
What is an EHR software?
An EHR (electronic health record) software is a digital platform used by healthcare professionals to store, manage, and access patient health information. This software replaces traditional paper-based systems and offers numerous benefits, including improved efficiency, accuracy, and security. EHRs can include a wide range of information, such as medical history, diagnoses, test results, medications, allergies, and treatment plans. This information can be easily accessed by authorized healthcare professionals across different healthcare settings, ensuring continuity of care and better health outcomes for patients.
Does Nalashaa help you in developing applications for doctors and patients?
Yes, Nalashaa can help in developing healthcare applications. We develop different types of applications to streamline different workflows related to healthcare organizations. If you can imagine it we can develop it.